We are finally here in China! It's been over a year that we found out we were assigned to Guangzhou, and it still doesn't feel real. Of course, that is partly because we are stuck in a quarantine hotel and so nothing really feels real. Today is day seven of our hotel quarantine. At this moment, I am crouched on the dark, cold floor of our bathroom shower editing this. Just a few feet outside the bathroom door sits my husband with his own device. Our children are still sleeping soundly and we would do anything to prolong our alone time.
Anytime someone asked us if we were excited to go to China, we would answer very honestly – yes, but also no. We're thrilled for these job opportunities in Guangzhou and we have heard so many good things about this city. But the hurdles to get there? The travel, the quarantine, the adjustment to a new job and for our children to a new nanny and school? None of that is fun. So our answer to that question always ended with: we will be. We will eventually be excited to be here.
In the meantime, I've had a lot of time to reflect on some of the weirdest and most interesting things we've experienced so far.
COVID Testing
Our biggest hurdle by far was the complications related to COVID testing. Over the past few months, China changed their entry requirements multiple times, often with little notice and disrupting travel plans at the last minute. At our time of travel, the rules required us to do COVID tests in the last city before we landed in China. In our case, this was Los Angeles. This is the same rule that delayed us by two months because  it basically limited us to direct flights from the US. As annoying as it seemed, it actually worked out quite well because it gave us two days to rest between flights.
The lab we tested at was only two blocks from our hotel. On Saturday morning we walked over to a nearly deserted office building, followed taped signs on the wall to the seventh floor, and found the testing site. I would say it was totally quick and painless, but my daughter would disagree. She was not prepared for a blood draw (Did I mention we had to do the nasal swab AND a blood test?) and freaked out.  A lollipop and juice box resolved most of the sadness and we were on our way. We had a brief sweet moment when she asked why I didn't get a pink band-aid like her, and I responded that it was because she was special. She teared up and replied, "But you're my mom! And you're special to me!"
Our next COVID test was upon arrival in China. After landing in Guangzhou, we were the first ones escorted off the plane like VIPs! There were two other American families on the same flight and we were all immediately removed and taken to health screening. They took us one by one into an adjoining room where they performed nasal and throat swabs on all of us. Luckily just throat swabs for the kids, because their method for the nasal swab was the kind that touches your brain, much deeper than in Los Angeles.
There's also the temperature checks. I have never had my temperature taken so many times in such a short period of time. They took it in LAX when we checked our luggage, before we boarded the plane, and several times on the 15-hour flight. Now in hotel quarantine, our days are broken up by twice daily by a knock on the door for our temperature check.
PPE
During our time in the US, we visited doctors, dentists and even the ER and I never saw the level of PPE that every single Chinese person has donned since we arrived. Everyone in LAX doing check-in, the flight attendants, all Guangzhou airport staff, everyone working in this quarantine hotel – head to toe PPE.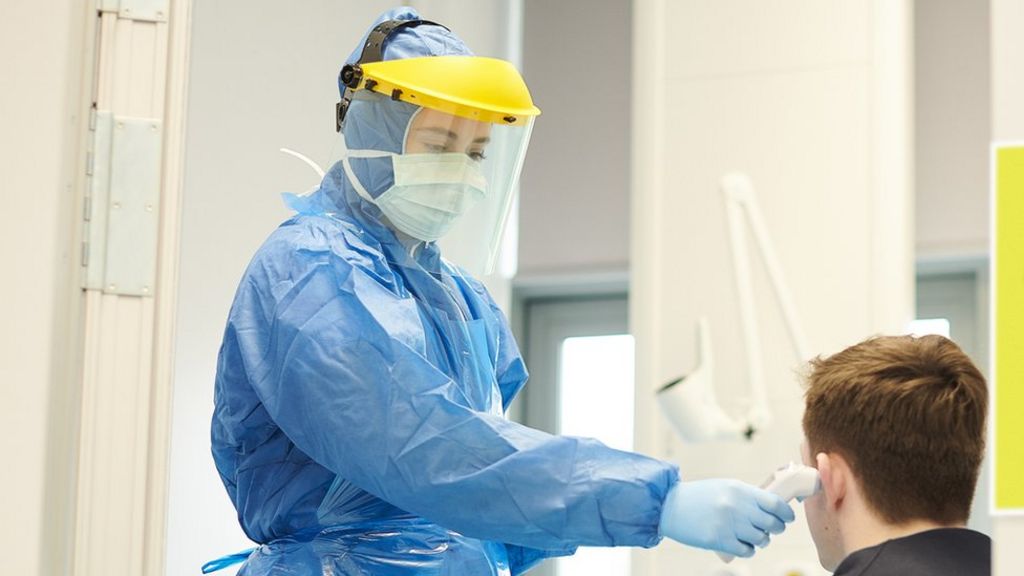 Not just PPE, but the level of disinfection is almost terrifying. Our luggage and stroller were damp after the airline staff sprayed them with disinfectant. Yesterday, I was getting a meal from the hallway in our hotel and I saw staff using a backpack machine to disinfect the hallway.
Despite how you feel about the pandemic and the level of seriousness each country has taken with it, this feels a little bit like a sci-fi movie, or at the very least: Monster's INC.  Still, at every step of the process, I have been impressed with the politeness and professionalism that the Chinese have exhibited.
The Quarantine
Over the past few months we went from thinking we could quarantine at our new apartment to the Chinese government requiring us to quarantine in a designated hotel for two weeks and then at home for another week. We were told it would be simple accommodations – there would be no kitchens or microwaves or fridges, possibly no hot water for showering. No laundry service. We could not order anything to the hotel. We could not choose anything. We might be separated from each other. We had to bring two weeks of entertainment, supplemental food, diapers, clothes, etc. My stress level was a little high to say the least.
In reality, it hasn't been as bad as that for us in Guangzhou.
After spending about four hours in the airport, we were then bussed to our hotel an hour away. This is when our kids finally lost it, crashed, and then had the world's most embarrassing meltdowns in the hotel lobby while we were trying to check in. We were mortified, but I can't say that it was surprising.
Upon opening the door to our room, we discovered that it was in fact two twin beds! I thought I had heard "two bedroom" at check in, when in reality they had said "two-bed room". 🙂 Unfortunately there were no larger rooms or suites, so our only other option was to split up. We opted to stay together. Now a few days in, I can say that while there definitely would be pros to splitting up, I think we made the right call.
The good news, the hotel did provide a crib and we had a small loveseat for our other child. They also gave us a fridge (which we needed for medication), we have hot water, the hotel is clean, the staff is wonderful, and they do allow outside deliveries.
The Food
I think this is one of the most interesting parts of experiencing a new culture and such a weird part of our quarantine. The hotel's main meal option is a fixed menu for breakfast, lunch, and dinner that has 2 choices for each. The prices are also pretty inexpensive in my opinion – $7 for lunch/dinner and less for breakfast. Each lunch/dinner meal comes with four different items and a side of soup. All the food is Chinese, with the exception of some breakfasts that seem to be trying to add some western elements.
I am really enjoying the set menus because it means we get to try lots of different things. I haven't liked everything and there is definitely way too much bok choy, but I think it's been fun! My two-year-old is happy to try everything as well, but my four year old won't touch anything except rice. Even if it is something similar to what we would have had in the US… it's a challenge to get her to even try it.
In addition to the fixed menu, they also have a special western menu for lunch. We have tried a few things from this that have been delicious. They also have a dimsum menu which another colleague in quarantine recommended to us. We tried pork buns, pork dumplings and a "quicksand" bun which is really just a custard filling in a steamed bun. I would be willing to try more except that there is no English translation and it's hard to know what you're getting into without pictures or descriptions of the items. Just to pick the few items we did order I had to pull up the menu on my phone, use Gray's phone to scan the menu and translate it and then do an image search for the name of the item to see what it actually was.
We are lucky that the other Americans in the hotel with us have already been living in China for a few years, so they have access to all the delivery apps and have ordered some takeout for us – McDonalds, KFC, and Pizza Hut! We almost never eat any of those in the US, but having a familiar food among all this transition has been a welcome change. Our social sponsor also helped us order a box of fruits and veggies and American brand snacks which has significantly improved our quality of life. Because we don't have Chinese bank accounts yet, we haven't been able to order anything for ourselves – we can't pay for anything yet. It's very frustrating, but we are so grateful that everyone else has been so willing to help and order for us.
Besides food, which truly drives our days as we wait impatiently for each drop-off (my two-year-old upon hearing the doorbell ring, yells, "Food? Temperature check?".), we don't really have much else going on. My husband really gets most of the credit for coming up with quarantine activities. He designed our daily story time and art time activities where we draw pictures based on the story we read that day. We have a whole wall of art already featuring Curious George, Caps for Sale, Madeline, and more.
Besides these structured activities, we fill our time with LEGO builds, yoga, small-children-as-weights workouts, a 1000-piece puzzle, water activities, laundry in a bucket, puzzle erasers, FaceTime with family, and a whole lot of TV and movies. One week down, another to go.